43,000,000,000km
From Zhengzhou to the whole country, from China to over 120 countries and regions like Cuba, Russia, Iran, Saudi Arabia, Sudan…
On the morning of May 19, when China-Europe Political Parties High-Level Forum was held in Zhengzhou, representatives from European political parties, accompanied by officials from Henan Provincial Government, visited Yutong. Kang Jimin, deputy secretary of the CPC party committee, on behalf of the bus maker, delivered a welcoming speech to all visitors from Europe.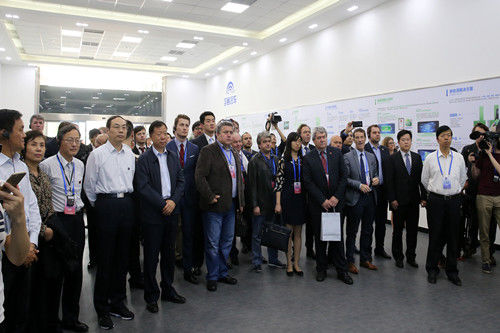 After the welcoming ceremony, representatives, accompanied by Kang, visited Yutong New Energy Bus Production Base. At the entrance of the workshop, an exhibition with both pictures and videos was presented to visitors to show the development history of the bus maker. When told that Yutong now boasts an annual production volume of over 60,000 units, all visitors raised their thumbs and expressed their hope that Yutong could strengthen its marketing efforts in Europe.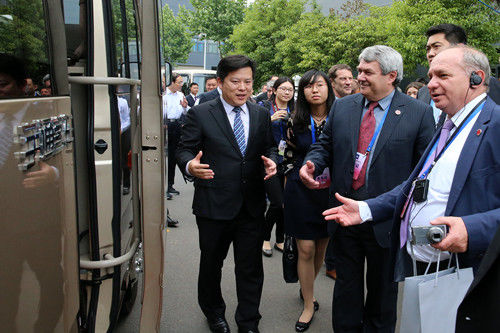 At the Final Assembly Workshop No. 3, Kang explained in detail about the manufacturing procedures of Yutong buses. Visitors were all amazed by the state-of-art production facilities and advanced management.
At Yutong Bus Exhibition Area, visitors were immediately attracted by Yutong T7 high-end business bus and two buses which would soon start their journey to Europe. They made inquiries about the technical details of these vehicles. Philip from Czech boarded T7 and was deeply impressed by its interior design and its comfortable seats.
As a modern enterprise specialized in researching, developing, manufacturing and selling a wide variety of buses, Yutong is capable of making over 340 units buses each day. Boasting the largest production scale in the world and internationally competitive production facilities, it has established well-connected after-sales service networks across the globe. So far, it has already obtained WVTA certificate from EU and it has set up a solid presence in a number of countries in Europe, including UK, France, Norway, and Macedonia, etc.